2022-02-08
Have we included everyone? – diagnose before updating your strategy

Inclusion in education has been a hot topic all over Europe. There have been various attempts to develop inclusion strategies for different groups, such as for the inclusion of disabled students, newly arrived migrants, those with special needs and others. MultInclude, an Erasmus+ project which the European School Heads Association (ESHA, also an Inscool II partner) was part of, had focused on the multiple inclusion needs of students having in mind the completion of secondary education and continuation of studies at tertiary level as a goal. In short, what we were aiming at is educating lifelong learners by catering for the individual inclusion needs of each student.
A student is successfully included, in my opinion, if they can reach their full potential, enjoy being at school, and at a certain point become happy particle physicists, musicians or bakers depending on their desires. Their career choice is appreciated by the community, and they have a drive and skills for developing their abilities later in life.
Education policy has defined some wonderful goals, providing quality inclusive education to everybody being one of them. We can fill whole libraries with answers to what we mean by quality, and we will still not have a clear definition, but it is not totally straightforward what we mean by inclusive. Some schools call themselves inclusive if anybody with a disability can thrive there or if they are prepared to welcome newly arrived migrants. But does this same school have answers to the inclusion needs of others? I believe that real inclusion in education is close to fully individualised education, and it can only become a reality if several factors come together in a good constellation.
Developing local school inclusion strategies largely depends on the mindset and competences of school professionals, and on a leadership vision. But first and foremost, there is a need for a diagnosis to explore where the school is, and what areas need further development. In the frame of MultInclude, a diagnostic tool, in the form of a scoring matrix was developed so that schools can use for this purpose. It was piloted in over 60 schools across Europe supporting schools to evaluate their inclusion strategies and practices along the lines of various dimensions. The website also provides a collection and analysis of practices for inspiration to support schools in improving their inclusiveness.
The questionnaire for the matrix consists of 163 items and it was developed along the lines of the following 7 dimensions and 4 domains: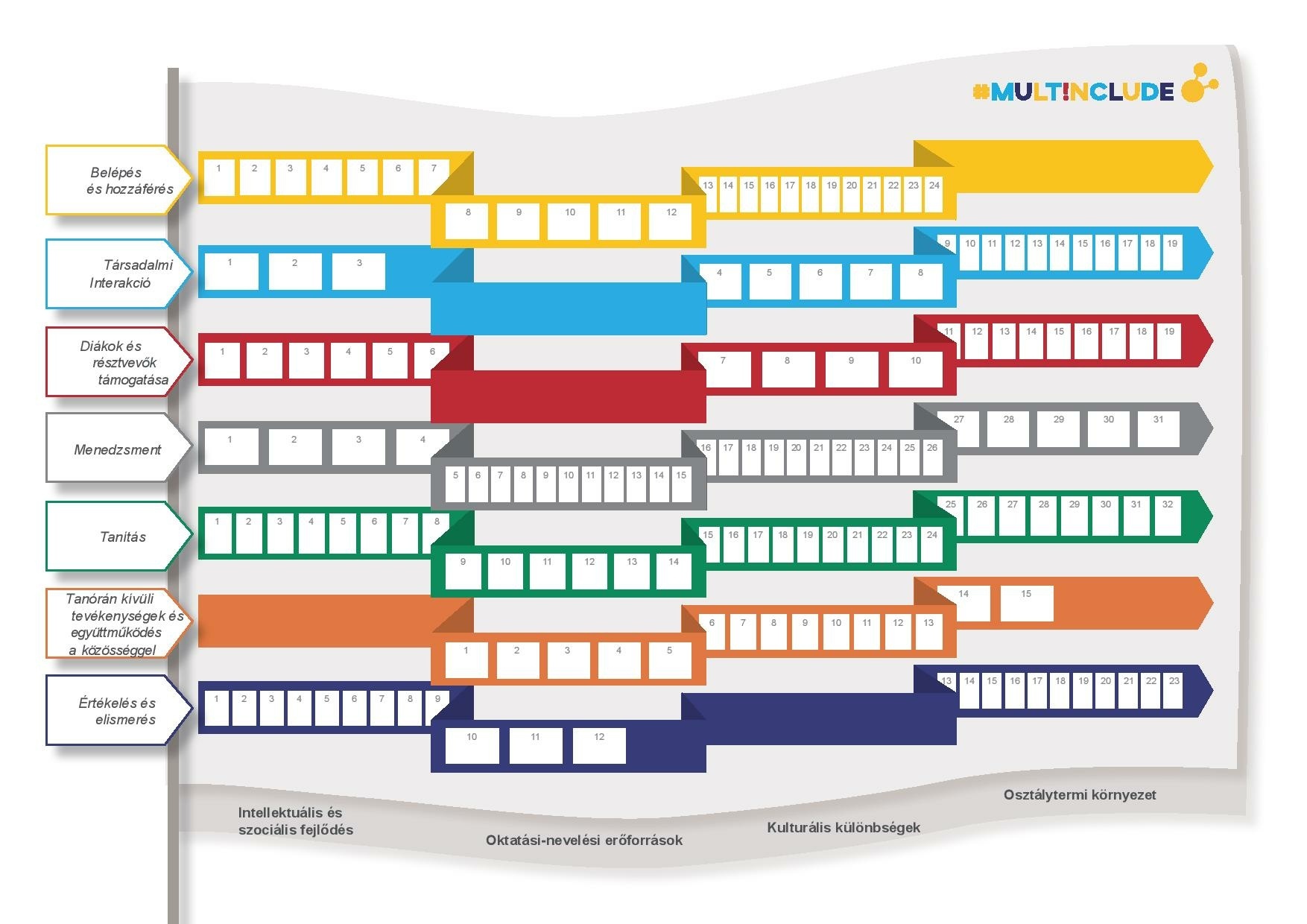 Dimensions:
Admission and Access

Social Interaction

Student and Participant Support

Management

Teaching

Extracurricular activities and Community Outreach

Assessment and Recognition
Domains:
Intellectual and Social Development

Educational Resources

Cultural Differences

Classroom Environment
By using this matrix, your school, or a group of teachers from the school can explore the areas the school is currently scoring low and decide how important the given area is for your school. It is a snapshot that can then be used as a starting point for developing or improving internal strategies and processes as well as to decide on action for improvement. For example, if a school identifies a need to update their management or teaching practices in the domain of catering for cultural differences, they can develop a plan for that.
The MultInclude scoring matrix has proven to be a useful tool for even the most inclusive schools to evaluate and subsequently improve their institutional inclusion strategies. There are always new challenges and room for further improvement. As the tool has been designed to cover a very wide range of inclusion aspects, it leads to a more systemic thinking in areas that have been covered by inclusion practice, but not yet by strategy. You can use the English version after registering in the MultInclude learning community, but it can also be used on paper, using the downloadable resources available here https://multinclude.eu/activities/impact/inclusion-matrix-toolkit/
Praise for MultInclude and the Scoring Matrix:
"I love it when complex concepts are translated into hands-on processes. And so, I'm a big fan of the MultInclude project's tool for self-assessing #inclusion within schools."
– Mari Varsányi, teacher, trainer and consultant specialising on Intercultural and Inclusive Education, the Netherlands